The belt conveyor is the most widespread type of transport systems. It is applied in all industries to the solution of a wide range of tasks: movement of piece freights (boxes, plastic boxes, the packed product), movement of continuous product (loose substances, unpacked production), etc.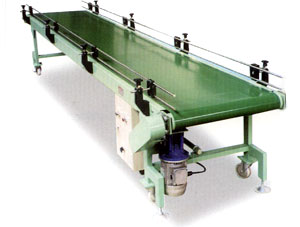 The belt conveyor can have various speeds of giving, the additional hinged equipment, loading and unloading devices. The most important part of the conveyor is the belt which is selected depending on properties of the moved freight, load of running meter, an operating mode of the conveyor, surrounding conditions, the speed of freight transfer and other.
The range of conveyer belts allows to find the most suitable option for reasonable price. For various tasks different types are used: smooth and corrugated, with flights and corrugated sides. Each belt conveyor is equipped with tension device which allows to balance its lengthening in use.
To order of belt conveyors send the specification to
bcsconveyor@inbox.lv
, call by phone
+371 66 016 253
or use order form.