A roller conveyor is a mechanism consisting of a set of rollers with fixed axes, positioned at intervals on a common frame. It is primarily designed for the movement of rigid-framed products such as pallets, corrugated boxes, trays, and other similar items.
In various industries, roller conveyors are widely used, and there are several types of them, depending on the design and purpose.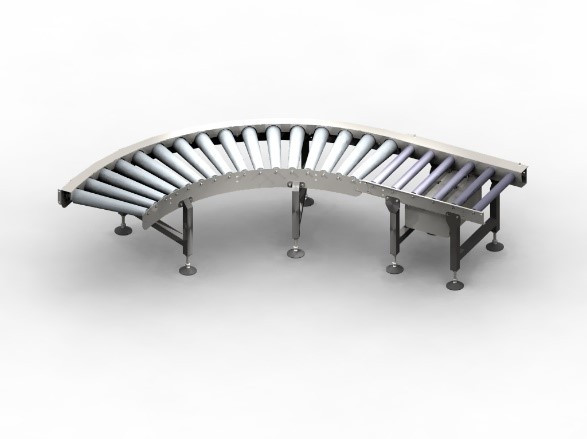 The types include:
non-driven and driven,
straight and curved,
stationary and mobile,
inclined,
flexible gravity,
outfeed and infeed,
accumulative roller conveyors.
To serve their functions correctly, boards, guides, and automation units may be installed.
The rollers' width is selected to be slightly less than the product's width, while the distance between the nearest rollers should be less than one-third of the length of small-sized products. The material and design of the rollers depend on equipment requirements, including operating conditions, type of load, and arrangement requirements. The price of roller conveyors varies according to these characteristics.
Non-driven roller conveyors, also known as gravity conveyors, are installed at a slight angle in the direction of movement. The rotation of the rollers and the movement of the product occur under the force of gravity acting on the transported product.
Driven roller conveyors can move loads along different trajectories and can lift the load at an angle of up to 5 degrees. The rotation from the output shaft of the motor drive to the rollers is provided in various ways, such as through a bush roller chain or various straps. The production and assembly of this type of roller conveyor are simple, and they are used in warehouses, packaging lines, and more.
Characteristics of roller conveyors
Roller conveyor configurations depend on various factors, such as the properties of transported products, sanitary requirements, environmental conditions, and safety. The optimum combination of features that allows designing a roller that meets all demands with the least cost is selected based on these requirements. The main characteristics of rollers include the roll material, material of construction, and type of boards.
Roller conveyors are essential in conveyor systems, especially where installing other types of conveyors is not possible or practical due to economic reasons. They have a simple construction, and their production and assembly costs are low. The equipment has low operating costs, and high reliability, and can work under severe conditions such as temperature, humidity, and dust.
Roll material:
Galvanized steel
Stainless Steel
PVC
Galvanized steel with rubber cover
Material of construction:
Structural steel (powder coating)
Galvanized steel
Stainless Steel
Aluminum profile
Type of boards:
Boards from sheets with various material
Bar
Profile from high-molecular plastic
The bearings in the rollers are lubricated for the entire operational time, transmission elements do not need servicing, and there are no wearing parts. Bearings can also be mounted in freezers.
To order a Z-shaped lifting conveyor, you need to send an e-mail with your requirements specification to e-mail info@bcsconveyor.com, call phone +371 28014638 or use the order form.